Two solutions for the specialist of the aeraulics industry
Unit connection system GU-1000000 and GU-2000000
The unit connection system has been designed to connect two separate air handling unit sections so that they are perfectly aligned along the X, Y and Z axes.
A solid connection is provided by the through-bolt. Two versions are available: one for fixing with threaded insert and another for fixing with rivets.
PERFECT ALLIGNMENT IN X, Y, AND Z-AXIS.
FIXING WITH THREADED INSERT OR RIVETS AVAILABLE.
CONNECTION PROVIDED BY THE THROUGH-BOLT.
Visit the product page and download the brochure.
Damper Code SER 50 Extruded aluminium
Another highlight of our production is the damper code ser 50 extruded aluminium. The new 50 mm pitch by-pass damper has been specially designed for counter-flow plate heat exchangers. Thanks to its reduced depth and rounded corners, it is the ideal solution for those seeking maximum performance even in tight spaces.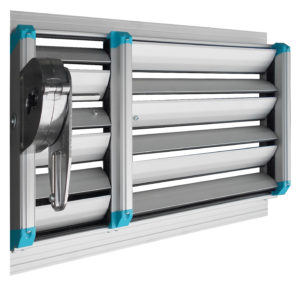 The slender frame, with 45° rounded corners, allows an easy assembly on the heat exchanger with a reduction of the space occupied inside the AHU. The plastic gears are assembled inside the lateral profiles, so that they are not accessible.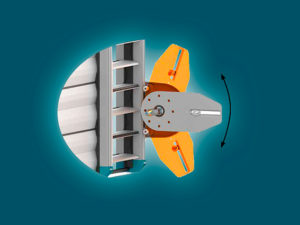 The damper can be completed with an innovative motor support with adjustable plate in five different positions. Thanks to this patented internal motor support the optimization of the space in the AHU is perfect.
FRAME WITH 45° ROUNDED CORNERS FOR THE OPTIMIZATION OF THE SPACE IN THE AHU
SPECIALLY DESIGNED FOR COMPACT AHU
INNOVATIVE INTERNAL MOTOR SUPPORT WITH ADJUSTABLE PLATE IN FIVE DIFFERENT POSITIONS
Visit the product page and download the brochure.