CFG 570 adjustable door hinge
CFG 570 adjustable door hinge
CFG 570 adjustable door hinge has been specially designed by Enginia specialists for use in insulated doors.
Hinge adjustment over the 3 axes (X, Y and Z), combined with the possibility to adjust the pressure on the gasket, lets you compensate for any imprecision due to the movements of the door at installation. As a result, the risk of air leakage is significantly reduced and energy efficiency is greatly enhanced.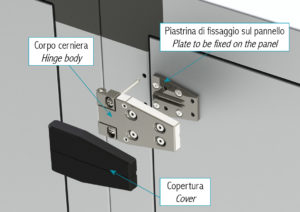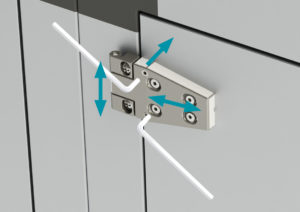 MUCH FASTER AND EASIER TO INSTALL THAN ANY OTHER PRODUCT PRESENT ON THE MARKET, THANKS TO THE USE OF EXPOSED FASTENING SCREWS.
A PLASTIC COVER MAKES ITS APPEARANCE MORE ATTRACTIVE, HIDING THE SCREWS AND PROTECTING THEM FROM THE ATMOSPHERIC AGENTS.
Discover more about the CFG 570 adjustable door hinge and download the brochure.